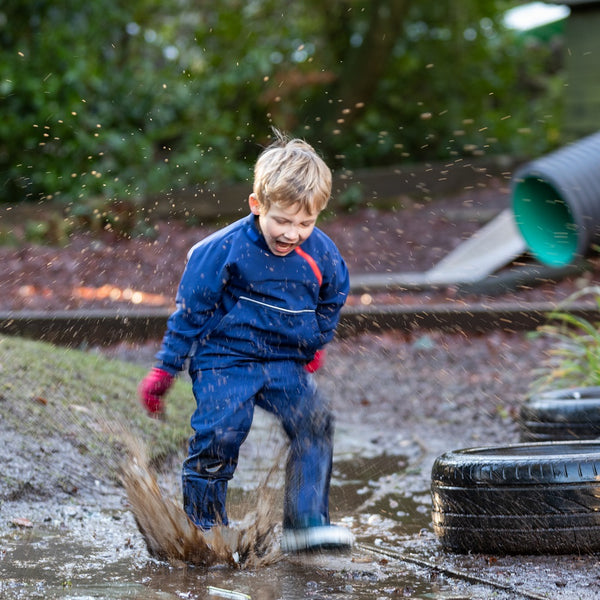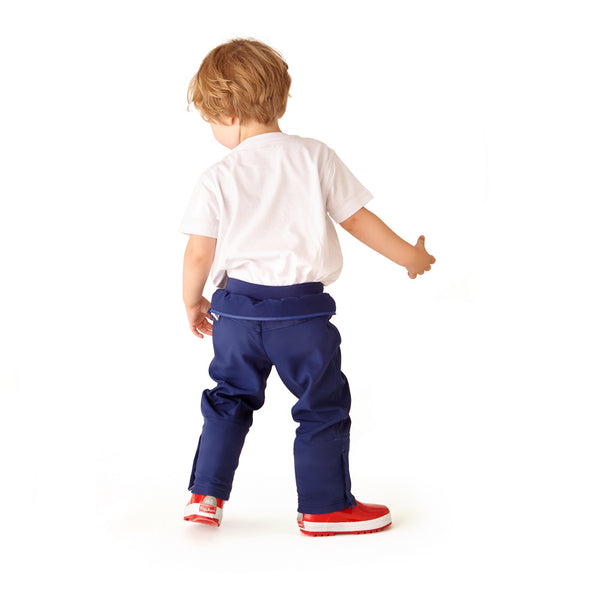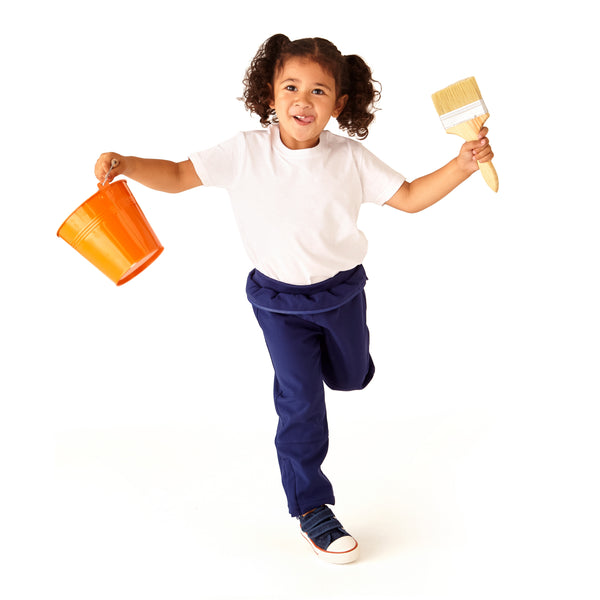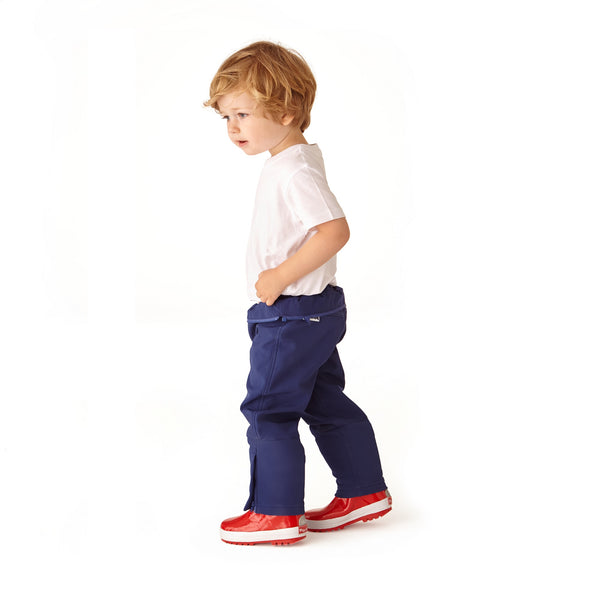 Comfy, super stretchy, breathable.
Tough outside, fleecy inside.
Teflon

™

coated to resist water and stains.
Tops and bottoms can zip together or be worn independently (sold separately)
Fabric guarded, colour coded, chunky yank proof YKK zips.
Elasticated ankles.
Easy on, easy off, quick to dry.
Machine wash at 40°. Tumble dry on low
Limited sizes available!
Our Kidunk fleece lined trousers feature a comfortable elasticated waist. They have a generous cut so little ones can roly-poly, run, hop, skip and jump and these trousers stay put. When little one is ready for outdoor or messy, sandy play, then zip on the Kidunk top and you have yourself a Kidunk playsuit and little one is protected. The zip attachment sits on the outside of the trouser and is discreetly folded back so when not in use it doesn't get in the way. The legs feature a concealed outer zip at the hem to get welly boots on with ease and an inner leg to tuck inside boots.
Sizing Guide
Order size

(yrs)

Height

(cm)

Chest

(cm)

Waist

(cm)

Hips

(cm)

Inside Leg

(cm)

1-2 Year
78-92
48-54
48-52
50-56
33-38
2-3 Year
92-98
54-55
50-52
52-55
40
3-4 Years
98-104
55-57
52-54
55-58
44
4-5 Years
104-110
57-59
54-55
58-61
48
5-6 Years
110-116
59-61
55-56
61-64
51
6-7 Years
116-122
61-63
56-57
64-67
54
7-8 Years
122-128
63-66
57-59
67-80
57
height:
Measure your child standing straight up and without shoes. Measure from the top of the head to the bottom of their feet.
chest:
Place tape as close under the arms as possible and measure round the fullest part.
waist: 
Measure your child around the natural waistline. Tape should be comfortably loose.
hips:
Stand with their feet together, measuring around the hips at the widest part.
leg:
Measure from the crotch to the bottom of their foot, legs and shoulder width apart.
Frequently Asked Questions
do I have to zip the tops and bottoms together?
No, Kidunk tops and trousers are sold separately and can be worn completely independently of one another. The zip to attach the two parts together is unobtrusive and unless you knew it was there, it's invisible. It even has a specially designed fabric zip guard.
The unique zip feature allows you to zip the two parts together, creating a playsuit. Whether it's time for climbing trees, rolling around in sandpits or messy play, your little one is totally protected.
During cooler months, the zip feature makes the playsuits extra cosy and in the summer, means they are totally protected from the sun.
What about toilet training in a Kidunk?
The problem we found with waterproof suits was, in fact, the zip. Two layers of clothing with two different directions of zip were fiddly and took a little while to undo!  We wanted to create toilet training friendly clothes and this is, in part, why the zip goes around the waist.
We think keeping toddlers unzipped whilst they master the art of toilet training is a good idea but the zips have chunky pullers on them so that they can easily zip themselves in and out as they get a little older.
Are Kidunks waterproof?
Our suits are waterproof (3,000mm - hydrostatic head test) so they don't absorb water like most kids' clothes. Liquids just sit on the surface of the materials and mostly roll off, so perfect for muddy puddles and water play.
The material is not designed for swimming in, so eventually if emerged in water it will become saturated. The good news is that they dry very quickly!
Can I tumble dry my Kidunk?
Certainly on a very low heat. The suits dry very quickly when air dried but it's always good to know you can tumble dry as well.
Are they breathable?
The Kidunk tops and trousers are made from a beautiful quality, robust fabric which is designed for play but they are totally breathable and even the Teflon™ coating doesn't affect this.
My child has delicate skin. Are Kidunks suitable?
Some children are more comfortable in cotton or Merino wool garments next to their skin and that's why we recommend base layers to be worn in cooler temperatures outside.
Like many similar products in the market, Kidunks are polyester and Lycra based as they are the most practical for play, but may not be suitable for some children.
Are there any stains that don't wash out?
We have developed Kidunk to be, as much as anything, 'kid proof' so we have used liquids and substances that are commonplace around a younger child;- water-based paints, children's glues, glitters,  tomato sauces,  blackcurrant juice and all the muck and grass you can throw at it!
Please check our care advice on how to treat stains.
We have also included in our care instruction leaflet liquids/substances that will damage the suit and that should be avoided.
How do I know what size to order?
You'll find a handy size guide button at the side of each product and a link at the bottom of the home page which gives you sizing and suggested measure points to make sure you get the perfect size for little one.
For quick access click here
Should I order a bigger size if I want to layer clothes underneath?
No, we have sized the garments so that they can be worn comfortably with layers underneath. For more information on layering please follow the link here
Are they comfy enough to wear all day?
Our little testers certainly thought so! Kidunks can be worn as any normal top and bottom inside and outdoors and are totally breathable. The difference with a Kidunk playsuit is that they are super comfy and repel liquids and gunky stuff!
Delivery
Please note we are experiencing postage delays! Please bear with us!
2/3 Day Delivery:
We offer a normal 2-3 day delivery service with Evri (formally Hermes) but as of December 1st, 2022 we are allowing 5 days for posting owing to delays beyond our control.
Please be advised, Hermes will attempt to deliver three times, leaving a calling card on each event. If the third delivery fails, the product will be returned to Kidunk where you will be refunded less the shipping charge.
Europe:
We deliver to UK and Europe, our website shows the cost of the postage & packing to your selected location, however, if you have any problems please contact us via contact@kidunk.com and include a contact number and we will be in touch as quickly as we can.
Worldwide:
Please contact us for deliveries outside of the UK & Europe via contact@kidunk.com.
Customs Fees:
All shipments to destinations outside the UK may be subject to duties and taxes which are levied by the importing country at the time the shipment arrives in your country. All applicable duties, fees and any additional charges for customs clearance are your, our customer's responsibility.
Layering Advice
There's no better way to keep out the cold, stay cosy and protected and there's only one way to go! Layers!
Adding layers under Kidunks couldn't be easier. They're generously cut so you can! Just add or remove layers depending on the weather and how hectic the play and adventures gets.
On warmer days, summer evenings and autumn afternoons, the fleecy lining will probably be enough. On cold days, pop on a long sleeve cotton top and some long johns or leggings. If it's bitter, add extra layers - you can! Kidunks are great for snow and chilly days so just add jumpers and thermals underneath and they'll be ready for anything!
Always check children's temperature to make sure they're not too hot or too cold.  Every child is different and feels the warmth/cold in different ways.
Unlike most outdoor wear,  Kidunks can be worn indoors too as they are 100% breathable. They are a similar weight to jogging pants or sweaters. 
So what are you waiting for? Lets get on our Kidunks and have some fun!